I'm super excited it is It Works Gives Back week!!!! I'll be posting little snippets all week long!!! Stay tuned!!!
Let me know if you want in on the fun of Giving to others!!!
About It Works Gives Back!
It Works! Gives Back Foundation
The It Works! Gives Back Foundation, 501(c)(3) nonprofit organization, was founded in 2014 to help us share the passion that our team has for helping those in need in our local communities and globally to truly make an impact on the world! The Foundation will give to other 501(c)(3) nonprofit tax exempt organizations that align with our values and goals. We will also support victims of natural disasters and humanitarian crises in America and around the world.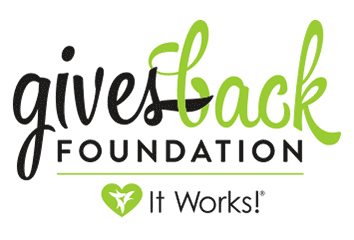 The V Foundation
It Works! Gives Back Foundation partnered with The V Foundation for Cancer Research at our July Green Carpet Experience. With the help of our team of distributors, we were able to raise $25,000 to support research that will help cure cancer. For more information, visit www.jimmyv.org.
It Works! Annual Gives Back Day
Mark your calendars for our 3rd Annual Gives Back Day on September 6, 2014! Our 2nd Annual Gives Back Day on September 7, 2013, was a huge success with events being held around the world! Our corporate team gave back to our local community with a Charity 5K and Family Fun Walk benefiting Selah Freedom and the National MPS Society. Thank you to our 5K sponsors: Stoneybrook Golf Club, S2 Timing, Bradenton Herald, Bright House, Capstan Financial Consulting Group, and Shire.
Children's Cup
Children's Cup, a humanitarian and spiritual aid organization, is on a mission to spread hope, inspire dreams, and change the world for children in 4 different countries and growing. They offer food, water, medical care, education, discipleship, and leadership to these children and families in underdeveloped countries. Children's Cup and It Works! Global started their partnership in 2013 when It Works! Independent Distributors and our Corporate Team raised $150,000 to feed over 60,000 children.
Selah Freedom
Selah Freedom is a nonprofit organization based in Sarasota, Florida, that exists to confront the issue of human trafficking and exploitation through advocacy, training, and restorative services. Selah Freedom and It Works! Global have partnered since 2012 with a 5K to raise awareness and fundraise for this worthy cause.